Happy Sunday, crafty friends! Josh and I started Whole 30 when we got home from Montana, because 3 months of quarantine then 3 weeks in Montana with family meant our diet was pretty terrible. The basis of Whole 30 is basically cutting down to only eating proteins, veggies, fruits and healthy fats. And I'm going to be real with you...we feel SO much better. I highly recommend doing this if you are just not feeling healthy and your body needs a reset. It's also about eliminating foods that cause inflammation within your body, and as you slowly reintroduce items back into your system...you can see how your body reacts. It's a true litmus test for food allergies that don't cause an
anaphylactic reaction.
I don't miss much, but I do miss two things. My sweetened coffee in the morning, and having cocktails with Josh on the weekend. Lol! Those are things I am going to allow back into my life after we are done with Whole 30, but for the most part, we will be adopting Whole 30 as a lifestyle change. We plan on allowing cocktails on Friday & Saturday nights, but I'll probably make mine a bit less sweet. I'm also going to try out some paleo options for sweetening my coffee in the mornings, and found a great recipe for a homemade pumpkin spice latte. I'll let you know what I think in about a month. Lol! So, in honor of all the cocktails I am missing out on right now...I created a couple of cards with some beautiful Alexandra Renke products and dies from Pinkfresh Studio & MFT Stamps.
"Cheers" Cocktail Card Set
I love doing slimline cards with Alexandra's papers because it allows me showcase all of the gorgeous elements that she adds to her papers. I wasn't able to source these papers in the US, so the links below are all to her online shop in Germany. Be sure to continue to ask your favorite American retailers to carry her products!
SUPPLY LIST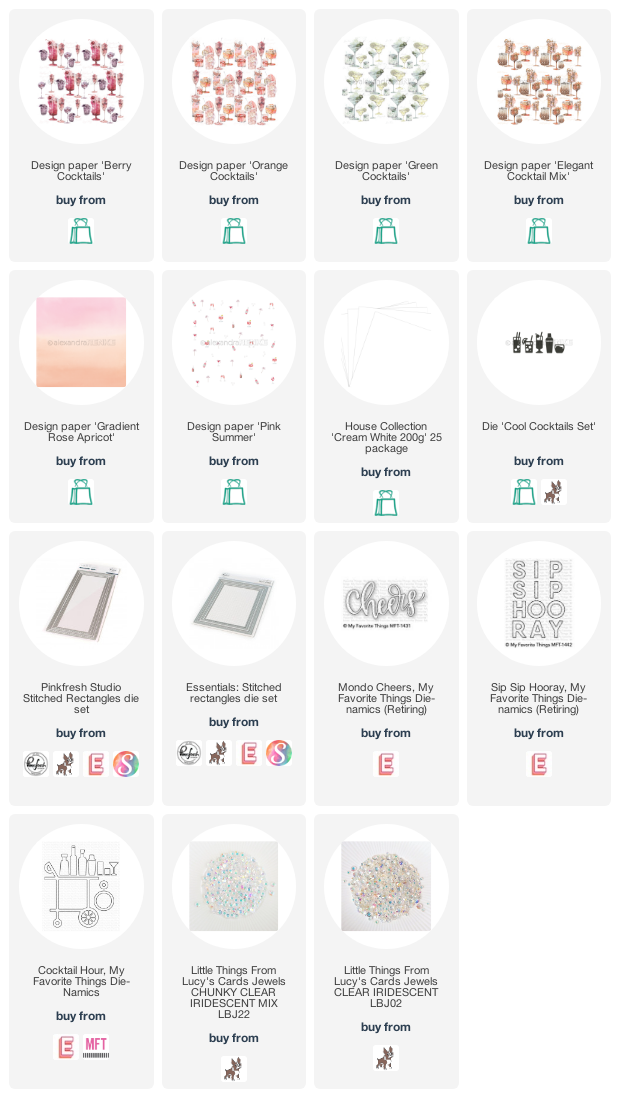 These aren't really technique driven cards by any means. I did some fussy cutting from the papers linked above, and I did some diecutting for the sentiments, and that adorable drink cart on the second card.
I REALLY want a copper drink cart in my house - it's on the list. I think that is probably why I reached for the copper foiled paper on this one. :)
I arranged the fussy cut drinks on the slimline card in rainbow order because, well...rainbows. Lol! It was just the proper thing to do in my brain. Both cards are also accented with iridescent jewels as a finishing touch.
As you can see, I reach for my Pinkfresh Studio Essentials dies on pretty much all of my cards. Most Essentials (Slim Cuts aren't included...sorry!) are on sale this weekend, so definitely grab your favorites at
15% savings
!You've got through tonight at 11:59pm CST, and the code is ESS15. If you have any questions about this card, leave them in the comments and I will be sure to reply.
Before you move along to the next stop on the hop, I wanted to invite you to follow me on social media. I would love to be crafty friends!
Have a great rest of your day!
For your shopping convenience, all products are linked below, including affiliate linking when possible - this allows small compensation for me at no cost to you. I typically link to 2-3 sites, in hopes that your preferred retailer will be among them. I only support legitimate retail sites, that are true partners to stamp, die and scrapbooking wholesalers.