Happy Monday, crafty friends! I hope you had a wonderful weekend! Can you believe we are in the final days of not only this year, but this decade? Man - what a decade it has been. It hasn't been an easy decade for me, but it will always be my favorite because it is the decade that my little ones were born. They may have only graced me with their presence for a short time, but they that short time was my greatest gift.
I got some cardmaking time in this weekend, and decided to play along with
MFT's Wednesday Sketch Challenge #469
. It's a good one for this
Fairy-Tale Friends stamp set
that I purchased, and haven't had a moment to use yet! Here is a look at the sketch:
Here is my take on the sketch. I've combined the
Fairy-Tale Friends stamp set
and
coordinating dies
with
Magical Rainbow
and
Cute Cloud Outlines
die sets. I also did some very light ink blending in the background with
TE's Set the Scene Cloud stencils
and Distress Oxide inks in Tattered Rose, Worn Lipstick, Tumbled Glass, Peacock Feathers & Wilted Violet (linked at the end of the post). I used my
TE Blender Brushes
to achieve such light blending. When I finished blending, I stamped the sentiment to the bottom then covered it up with the same stamp. I lightly spritzed it with clear shimmer spray first, then added just a tiny spritz of gold shimmer spray.
I colored the unicorn in with
Zig Clean Color Real Brush markers
. Rather than using water, I typically blend the colors with the Zig blender brush. Here is a list of all the colors I've used. At the end you will see some different set options, but I think the only set that will have all of the colors is the 90 set. This
Zig Line Up link
is one of the best ways to know what colors are offered in each set!
Body/Nose: pale gray + blender, midas touch aqua shimmer (nose only)
Wings: haze blue + blender, glitter gloss aqua shimmer
Mane/Tail: light carmine, tea rose, pink, light pink, turquoise green, light blue, violet, light violet + blender, midas touch aqua shimmer
Horn/Hooves
: gold Uniball Gel Impact pen
PEN LIST: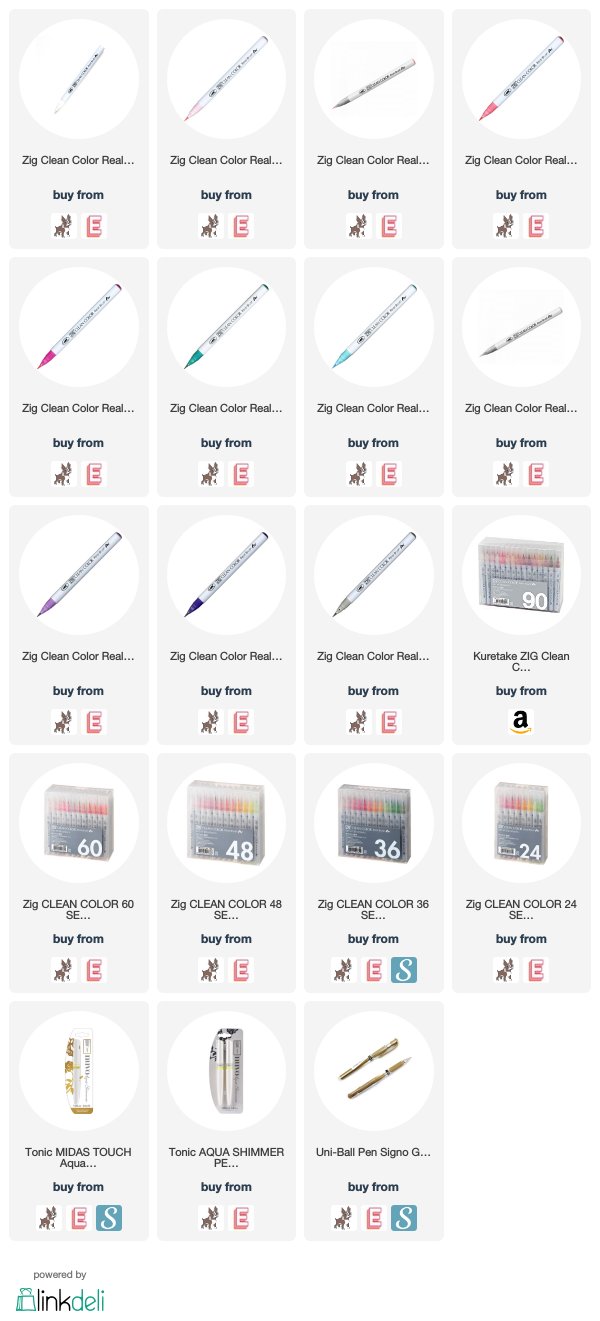 Here is a closer look at the colored & shimmery unicorn!
Once I did all the diecutting, I covered just the cloud outlines in glitter. Then I put the card together as shown, popping items up with foam dots here & there. Finally, I did some accenting with iridescent jewels from Lucy's Little Things (linked below).
That is everything I have for you today!
If you have any questions about my card, feel free to leave them in the comments and I will be sure to reply.
CRAFTY QUESTION OF THE POST
What are your favorite ink blending tools?
I thought I would start a new feature to my posts, where I ask you about something, but also answer it myself! I hope it helps me to know you better, and learn about products or techniques that I am unaware of. And hopefully it will be beneficial for you too! The question will likely relate to the card I've created for the post, and today is all about ink blending! I own three different sets of ink blending tools, and I use all three for different reasons.
1. TE Blender Brushes: I reach for these the most because they are color coded. I don't really have to clean them between uses, just blot off any excess ink on to scrap paper. If they do need a cleaning, I've found a damp, soft cloth works perfectly. They also help me keep a soft hand when I want to keep the ink blending light, and you can gradually add more color in.
2. Ranger Mini Round Ink Blending Tool: I've had these the longest, and I will never get rid of them. They are perfect when you want a heavier hand and bolder colors when ink blending. I've blended some of the most seamless and beautiful backgrounds with these tools, and they are a staple in my crafting studio.
3. Picket Fence Studios Life Changing Brushes: I love the different sizes & shapes included in the full set, and I reach for them most when I am trying to keep my ink blending in a very small area. Or, I grab the biggest brush when I am ink blending a full panel with the same color.
I can't wait to hear your responses! Before you move along with your day, I wanted to invite you to follow me on social media. I would love to be crafty friends online! You will likely see my question on IG & FB too, so you can answer wherever you'd like!
Have a happy Monday! I hope you get some crafty time in. :)


For your shopping convenience, all products are linked below, including affiliate linking when possible - this allows small compensation for me at no cost to you. I really appreciate your support! I typically link to 2-3 sites, in hopes that your preferred retailer will be among them. I only support legitimate retail sites, that are true partners to stamp, die and scrapbooking wholesalers.